News Archive - Sep, 2003
| | |
| --- | --- |
| Beatnik has requested I remove the patch sets - 12:27pm | 26-Sep-2003 |
I got an e-mail from Beatnik yesterday (25-Sep-2003), and the person who contacted me kindly told me that copying of the patch sets is not allowed and is in violation of the owners copyright. Due to that fact, I am forced to remove the links to the patch sets. However, besides removing the links, I will leave the rest of the information intact so that users know that the patch set can be replaced. I will be replying to Beatnik and request some kind of arrangement with them (if possible) and will let everyone know on this page. Below is the e-mail I got from them.
Hello,
I am the head of Product Management for Beatnik, Inc. and I recently ran across your enhanced MIDI bank for the P800 on Symbian.com. While I was very excited to see that there is interest in high quality sound on a Beatnik device, I am afraid I have some bad news about the rights for redistributing those soundbanks.
First, I will address the 175KB bank, which is the biggest issue. This bank was created by Beatnik specifically for one of our European handset manufacturer customers (not Sony Ericsson). This customer purchased the bank outright and even Beatnik does not have rights to redistribute. I encourage you to take this bank off your site as our customer would be entitled to take legal action if they found out (unless you have obtained legal rights to redistribute on their behalf). Again, I wish this wasn't a problem because Beatnik likes to encourage quality audio development. But in this case, I'm afraid the issue of legal ownership must take precedence.
Let me be clear that I am saying this only to help you avoid any problems with our customer--Beatnik has no ownership rights to that 175K bank.
Regarding the 482K bank you are offering, this is a proprietary Beatnik bank. While it is made available to customers with our web Player Plug-In, the end user license agreement does not grant rights to redistribute this bank directly to others. You have done a good job referencing credit to Beatnik for this bank, but we will have to come to a legal agreement in order to give you rights to redistribute the bank since Beatnik owns it and has spent many thousands of dollars developing it. That said, I think this might provide a good opportunity for Beatnik to work with you as we do with other development partners. As I said earlier, we want to enable developers to produce the best content possible, so there may be ways we can work together towards this goal. For now, I'm afraid I must ask you to no longer offer this soundbank until we can have a preliminary discussion and grant you some sort of distribution rights.
I apologize for the inconvenience. I hope we can set up a time to speak soon and find a legally acceptable way to work together to provide you and developers who use your site with the best audio possible. I look forward to hearing from you soon.
Shawn Adamek
Sr. Director, Product Management
Beatnik, Inc.
+1-650-***-**** (w)
+1-650-***-**** (m)
*********@beatnik.com

| | |
| --- | --- |
| UIQ releases v2.1 SDK - 3:56pm | 23-Sep-2003 |
The UIQ SDK is a development kit designed for software developers and third-parties developing applications and services for mobile phones based on the UIQ platform. The UIQ SDK contains binaries and tools to facilitate the development and deployment of applications for UIQ-based mobile phones. It also contains comprehensive reference and guidance materials, examples and a PC-based emulation of the UIQ platform to enable fast development turn-around times. Application development in both C++ and Java is supported.
Read the complete story here.
| | |
| --- | --- |
| Fifty networks committed to EDGE deployment - 2:57pm | 23-Sep-2003 |
GSA - the Global mobile Suppliers Association, has reported that after recent announcements 50 network operators have now publicly committed to deploy EDGE for delivery of next generation mobile services. EDGE deployments are foreseen in all regions of the world; commercial EDGE services have been launched in North America and Asia, and are expected to be available from several European networks from early 2004 onwards.
Read the complete story here.
| | |
| --- | --- |
| DiGi expects more to sign up for "Beyond Prepaid" - 2:54pm | 23-Sep-2003 |
DiGi.com Bhd expects its "Beyond Prepaid" service, which was launched on Sept 22, to increase its subscriber base this and next year, from two million subscribers now.
Read the complete story here.
| | |
| --- | --- |
| Ericsson pledges to groom local firms into world-class players - 2:52pm | 23-Sep-2003 |
While declining to provide details, Ericsson Malaysia manager (Alliance Programme) Ezani Amir says, "We will continue to invest in EMW Malaysia. We want members of this programme to consist of companies that are credible. We want to have a long-term relationship with them and thus will continue to invest in new technologies so that they can explore and play with."
Read the complete story here.
| | |
| --- | --- |
| P810 pictures - 4:57pm | 19-Sep-2003 |
A user (bbasra) on my-symbian.com had access to a P810 and had taken a few pictures of it with his P800.
You can download all 33 pictures packed into a ZIP file (1.6MB) here.
| | |
| --- | --- |
| P800 successor blooper by Sony Ericsson - 4:55pm | 19-Sep-2003 |
The much-anticipated successor to Sony Ericsson's P800 shows up in a Flash movie on the Sony Ericsson web site, only to be removed shortly thereafter.
Read the complete story here.
| | |
| --- | --- |
| Updated the firmware revison page - 4:54pm | 19-Sep-2003 |
Updated the firmware revision page, update in firmware revision for T226 available only on the Cingular network in the US.
| | |
| --- | --- |
| Turn your mobile into a speakerphone - 10:19pm | 15-Sep-2003 |
Sony Ericsson has introduced the CSS-20 which solves a lot of the problems. Firstly it turns any of the latest Sony Ericsson handsets into a decent speakerphone and you really can wander around the room while you hold a conversation.
Read the complete story here.
| | |
| --- | --- |
| Sony Ericsson recalls phone chargers - 9:42pm | 11-Sep-2003 |
The charger is manufactured in Thailand by Delta, an external supplier, and has the identification number BML 162 099/3 R1A printed on the socket face, along with "Made in Thailand by Delta." The charger has been included with the following Sony Ericsson Phone Models: T68i, T300, T310, T610 and a number of Bluetooth handsfree and other Sony Ericsson accessories. The charger has also been sold separately.
Read the complete story here.
| | |
| --- | --- |
| P810/P900 sneak peek - 5:09pm | 10-Sep-2003 |
Somebody has posted additional pictures of the yet unannounced P810/P900. You can see them below.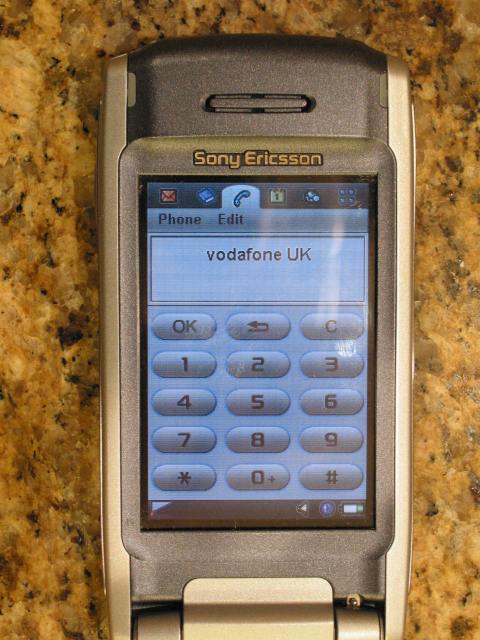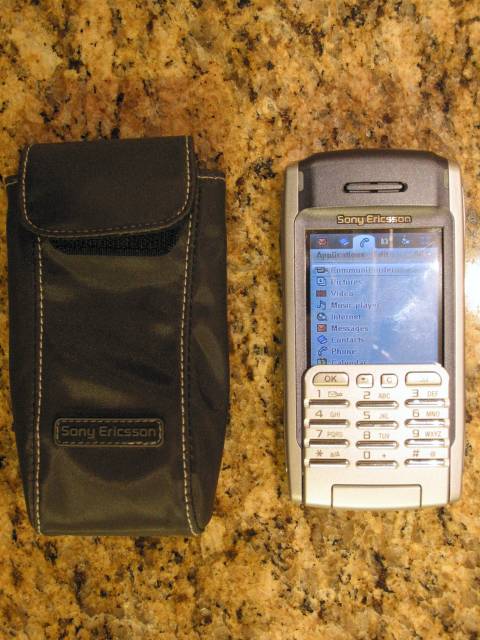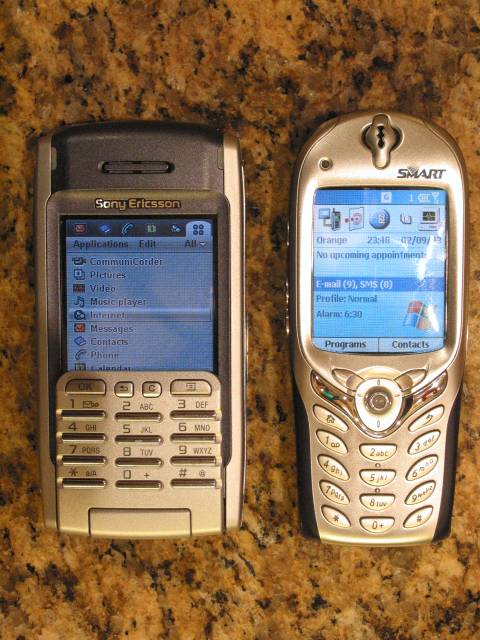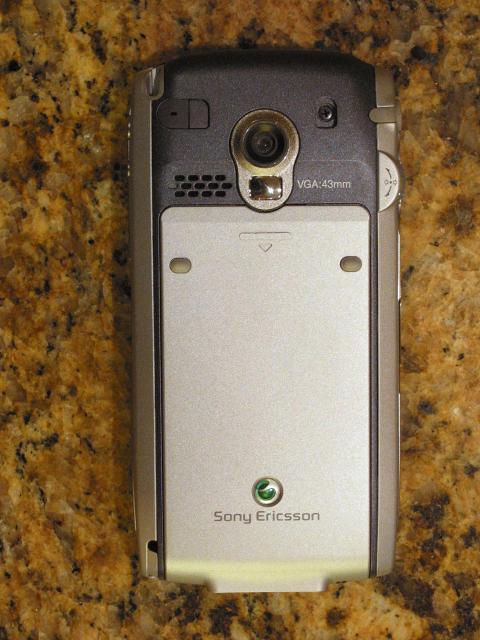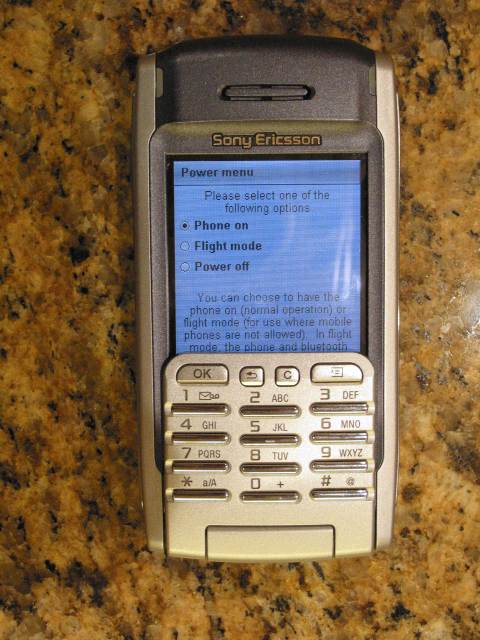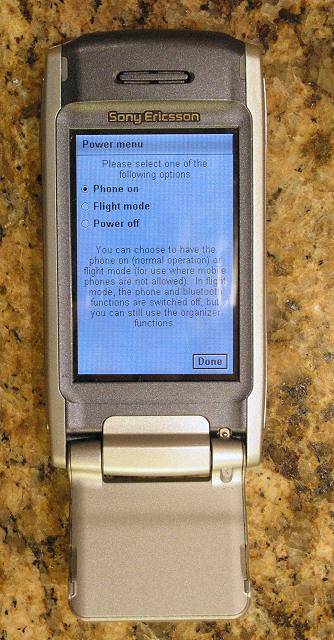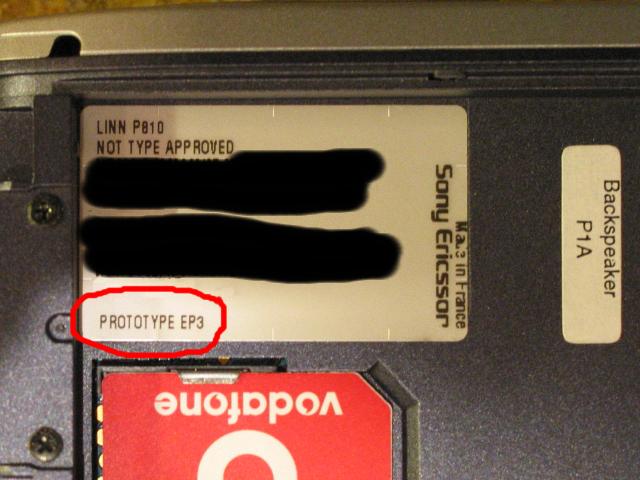 Pictures have been downsized by your browser, save the pictures on you computer and view them in their original size.
| | |
| --- | --- |
| Sony Ericcson advertisement - 2:28pm | 8-Sep-2003 |
Want to see an interesting advertisement from Sony Ericsson featuring the T160? You can get the .WMV file by clicking here. I wonder if anybody has the other advertisement by Sony where a scuba diver records a whale's song which it sent to a P800 and transmitted out to a DJ who plays it at some disco...
| | |
| --- | --- |
| MMS used to help cut crime - 2:15pm | 8-Sep-2003 |
Malaysia's police are to start accepting information from members of the public using MMS camera phones. The new service was officially launched by State Human Resources, Health and Consumer Affairs committee chairman Datuk Seah Kwi Tong and will be available in Malacca.
Read the complete story here.
| | |
| --- | --- |
| Ericsson reorganises - 2:14pm | 8-Sep-2003 |
Ericsson says that it will form a new business unit, Access, by separating the responsibility for high volume radio products from business unit Systems. Ericsson will also introduce a group function for sales and marketing. The overall Ericsson organization will remain.
Read the complete story here.
| | |
| --- | --- |
| Ringing cell phone lead to jail sentences - 2:12pm | 8-Sep-2003 |
An Indian courts plans to sentence a man for contempt of court for allowing a cellphone to ring during a court case were disrupted, when a policeman's own cell phone also rang during sentencing. The high court in Patna, the capital of the eastern state of Bihar, was sentencing Madhu Kumar, an employee of the state education department, to three days in jail and fined him US$34 for keeping his phone on when attending court.
Read the complete story here.
| | |
| --- | --- |
| Sony Ericsson 3G phone set for January launch - 2:01pm | 8-Sep-2003 |
I wonder why Sony Ericsson's press monkeys didn't announce this in a press release.
The phone, the Z1010, was unveiled last February. The clamshell handset looks not unlike the Z600 tri-band GSM/GPRS phone the company launched earlier this week. It will launch in January 2004.
Read the complete story here.
| | |
| --- | --- |
| Sony Ericsson takes a big market share hit - 4:17pm | 4-Sep-2003 |
Sony Ericsson maintains that 18-20 per cent of all handsets sold in Europe are clamshells compared to 50 per cent in Asia Pacific and 30 per cent in US. So it's a big market.

<SNIP>

However, the bizarre fact is that Sony Ericsson's UK & Ireland md, Philip Rambech, specifically claimed that one of its handsets, the T100, is actually outselling Nokia in key Asia Pacific markets and the T100 isn't a clamshell.
Read the complete story here.
| | |
| --- | --- |
| Sony Ericsson goes gaming... Toy Bluetooth car to go on sale - 4:07pm | 4-Sep-2003 |
The article says only 1,000 units of the CAR-100 will be built. However, more will be built if the demand is there. It should be priced between UKP 50 to UKP140.
The Gameboard has been deliberately design to look just like the Sony Playstation with the control buttons layout being almost identical. The big catch is that the Gameboard only works with the new Z600 model but it might not be the sole handset in future, the company cofirmed.

In another attempt ot attack the 'fun' side to the mobile phone industry, Sony Ericsson lanched the CAR-100 remote controlled toy car. It was originally built to demo Bluetooth's capabilities.
Read the complete story here.
| | |
| --- | --- |
| Sony Ericsson Aims To Be Number One In M'sian Mobile Phone Mart In 2006 - 12:35pm | 4-Sep-2003 |
SINGAPORE, 3 September - Sony Ericsson aims to be the top company in Malaysia's mobile phone market by 2006, say company officials.

Eric Goh, Sony Ericsson's branch manager for Malaysia, told reporters here Wednesday that the unveiling of three new mobile phone models was part of that plan.

Sony Ericsson Wednesday unveiled three new mobile phone models, T230, Z200 and Z600, simultaneously in five countries namely, France, Australia, Taiwan, Malaysia and Singapore and expects them to be in the market in October this year.

"Two years ago we ranked sixth in terms of mobile phone market share and today we are number four. And we aim to be number one in 2006," he said after the unveiling.
Read the complete story here.
Story submitted by Christopher Chua
| | |
| --- | --- |
| Congestion builds up on GPRS; WAP blocked - 12:31pm | 4-Sep-2003 |
When the GPRS standard was first proposed, sceptics said that it didn't have the capacity that a serious service would need. Now, it turns out that some carriers are finding it hard to meet existing demand and are switching data services off.

Asia-Pacific mobile provider Globe Telecom has attempted to limit the amount of GPRS traffic by concentrating its resources on customers which use its own WAP gateways.
Read the complete story here.
| | |
| --- | --- |
| Sony Ericsson announces the Z600 - 5:44pm | 3-Sep-2003 |
In conjunction with Sony Dreamworld in Paris, France, Sony Ericsson announced the Z600, a clamshell mobile phone with complete imaging and messaging capabilities. The Z600 is the first GSM/GPRS clamshell phone with exchangeable front and back covers and also features an integrated camera and colour screen. The Z600 will be in shops Q4 2003.
Clamshell design
65536 color screen
32-voice polyphony
Replaceable covers
MOPHUN gaming engine
Quickshare™
Bluetooth
Read the complete story here.
| | |
| --- | --- |
| Sony Ericsson announces the Z200 - 5:37pm | 3-Sep-2003 |
In conjunction with Sony Dreamworld in Paris, France, Sony Ericsson today announced the GSM/GPRS Z200 mobile phone. Combining a rich 4K colour screen and 40-tone polyphonic sound with exchangeable Style-UpT front panels in stylish colours, the Z200 is set to impress and attract fun-loving youth and design and style conscious adults. The Z200 will be available during Q4 2003.
Clamshell design
4096 color screen
40-voice polyphony
Replaceable covers
MOPHUN gaming engine
Read the complete story here.
| | |
| --- | --- |
| Sony Ericsson announces the T230 - 5:23pm | 3-Sep-2003 |
In conjunction with Sony Dreamworld in Paris, France, Sony Ericsson today announced the T230 GSM/GPRS mobile phone. With a bright colour screen, polyphonic sound and navigation specially designed for ease-of-use and mobile game play, the T230 is a fun phone, able to handle all the latest communication and entertainment applications.
4096 color screen
32-voice polyphony
MOPHUN gaming engine
Read the complete story here.
| | |
| --- | --- |
| Sony Ericsson announces entertainment package - 5:21pm | 3-Sep-2003 |
Sony Ericsson today announced innovative, fun products to go with their mobile phones. The Gameboard EGB-10 is an attachable game controller which gives a true console-style feeling to playing mobile games. The Bluetooth CAR-100 is a small race-car that can be controlled with a Sony Ericsson mobile phone, a great example of the variety of ways in which Bluetooth wireless technology can be used.
Read the complete story here.
| | |
| --- | --- |
| Sony Ericsson introduces the HBH-200 - 5:02pm | 3-Sep-2003 |
In conjunction with Sony Dream World in Paris, Sony Ericsson today announced a discreet and sophisticated new BluetoothT handsfree, the HBH-200. It is neat and lightweight yet offers functionality such as displaying name or number of the caller and handsfree call handling, making it one of the smartest Bluetooth handsfree devices on the market. The HBH-200 is targeted towards frequent mobile phone users who are often on the move and want a good looking but efficient wireless handsfree solution. It will be in shops Q4 2003.
Read the complete story here.
| | |
| --- | --- |
| Sony Ericsson and Cartoon Network content offerings - 4:57pm | 3-Sep-2003 |
Sony Ericsson, a leading mobile phone provider and Turner Broadcasting, provider of some of the world's most successful and well-known news and entertainment brands, today announced an agreement to offer fun and entertaining games, wallpapers and ringtones developed by Macrospace Ltd, using Cartoon Network's well known characters to Sony Ericsson phone users around the world.
Read the complete story here.
| | |
| --- | --- |
| Bluetooth turns airwaves blue - 11:13pm | 2-Sep-2003 |
Here is an inovative derivative to bluejacking ™
WHILE British national tabloid, The Sun, has recently reported a rise in the British appetite for threesomes, rumours have reached The INQ's ears of a novel use for Bluetooth - the wireless cable replacement technology.

<SNIP>

All you need to do is to give your handset a suitable name - such as 'Swingerz'. Then you set the handset to search the room for other Bluetooth enabled devices. When your handset detects another handset labelled 'Up4it', you select your business card and send it out by Bluetooth.
Read the complete story here.
| | |
| --- | --- |
| Metroworks makes available Codewarrior trial - 1:34pm | 2-Sep-2003 |
Metroworks has made available a trial copy of their Codewarrior for would be developers of the Symbian platform. To get your copy, visit the Metroworks site here.