News Archive - Nov, 2001
| | |
| --- | --- |
| Sony Ericsson responses to Nokia 7650 offering - 12:16pm | 29-Nov-2001 |
Sony Ericsson has announced plans to release it's first mobile phone integrate with a digital camera.
Read the complete story here.
Thanks to George for the lead to this.
Updated 29-Nov-2001 - 3:13pm
Looks like my story on the 27-Nov-2001 is related to this one. This story and picture came from the site Swedish site AFTONBLADET and the story itself can be found here (Swedish only).
However, somebody was kind enought to translate it into English (by Johannes G. Kristinsson) and posted it in the newsgroups.
Here is Ericssons answer on Nokias 7650 SonyEricsson ready to lauch telephone with built-in camera. SonyEricsson isn't brought of balance by Nokia's 7650, a phone with built-in digital camera, but are right behind with an own variant on the same theme. The newspaper "Mobil" claims to have found the first picture of Ericssons "supermobile".
Just a few days after Nokia presented their 7650, a phone with built-in digital camera, Jan W"reby no confirms that Ericsson is about to present an own model.
Sometime during next year SonyEricsson will present their "answer" to the 7650, says the vCEO and marketing directory Jan W"reby in the paper "Dagens Industri" today. The paper "Mobil" claims now to have found the picture which "very probably could be" Ericssons first phone with built-in camera, even if it is a prototype.
"Just as on Nokia 7650 it has a button-pad which can be ejected and above the phone's display we see something that seems to be the lens of a digital camera. Just as Nokia's 7650, Ericssons answer seems to be equiped with a high-resolution color display", the paper Mobil writes, and means that this is "very credible" that the model is intended for the european market.
The first products released under SonyEricssons brand will arrive this spring, but when the new phone will be released is not official. In a couple of statements made by Jan W"reby yesterday, he was indeed optimistic about the possibilities for the company during 2002. "We have not publiced any prognoses, but I believe that our market- share will increase next year", he said to Reuters. Right now, the new started company has app 8 percent of the mobile phone market.
| | |
| --- | --- |
| T39 wins moisture-test - 10:01am | 28-Nov-2001 |
A consumer test to check out moisture-sensitivity found the Ericsson T39 to be the toughest cookie in the mobile arena.
Read the complete story at GSMBOX and WAP.COM sites.
Thanks to Gerry Menon and Jason Chue for the leads to this story
| | |
| --- | --- |
| A New Sony Ericsson phone? - 8:53pm | 27-Nov-2001 |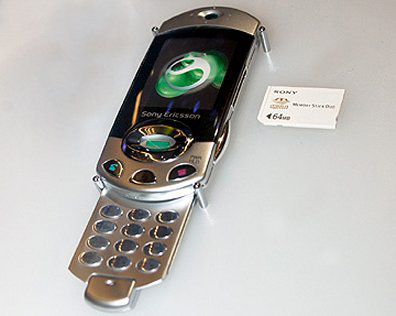 Saw this picture in a GSM forum, no other information about it yet.
Maybe somebody can shed some light into this.






| | |
| --- | --- |
| Ericsson demonstrates MMS to non-MMS phones - 9:15pm | 22-Nov-2001 |
Ericsson is helping wireless operators increase demand for MMS (Multimedia Messaging Service) by offering them a solution that also works with non-MMS equipt mobiles.
"This is the world's first live demonstration of how operators can offer their subscribers multimedia messaging right now, regardless of whether they are using MMS-enabled phones," said Lars Boman, President of Internet Applications at Ericsson. "As several industry reports have indicated, MMS is expected to be one of the biggest growth areas in mobility over the next few years, overtaking standard Short Message Service (SMS). Legacy Phone Support helps operators to launch MMS now and secure market share quickly."
Read the press release here.
You can also read more about MMS here.
| | |
| --- | --- |
| Sony Ericsson sees market share rising in 2002 - 9:02pm | 21-Nov-2001 |
Sony-Ericsson expects to increase its market share in mobile phones next year, its executive vice president Jan Wareby said on Tuesday. The joint venture, set up by Swedish telecoms equipment maker Ericsson and Japan's consumer electronics maker Sony Corp on October 1, now has around eight percent of the global market, representing an estimated 400 million units this year. "We have made no official forecasts, but I think our market share will rise next year. By how much I cannot say," Wareby told Reuters on the sidelines of a telecoms conference.
Read the complete story here.
| | |
| --- | --- |
| Six million devices use Bluetooth in 2001 - 8:58pm | 21-Nov-2001 |
Ericsson estimates nearly 6 million devices will be using Bluetooth by the end of this year (2001).
By the end of this year more than six million models of electronics devices, such as mobile phones and computers, will communicate using Bluetooth technology, according to Maria Khorsand, head of Ericsson Technology Licensing. Khorsand expects the market to boom in 2002. Bluetooth, a technology invented by Ericcson in 1994, has been promoted as an open standard for short-range, wireless transmission of digital data between devices since 1998.
Read the complete story here.
| | |
| --- | --- |
| Nokia to unveil colour screen cellphone - 11:09am | 19-Nov-2001 |
Looks like Nokia needs to run for it's money now. Due to the release of the T68 which features a color screen, Nokia is now pressured to do the same.
Nokia declined to comment on the two phones, which look like a direct challenge to recently launched and well-received devices from arch rival Sony Ericsson like the T68 model, which has a colour screen.
<snip>
Nokia has been pressed to unveil more advanced models since Sony Ericsson, a recently formed mobile phone venture, launched the T68 in Europe and other mobile Internet-enabled devices.
Read the complete story here.
| | |
| --- | --- |
| Battery Info - 6:18pm | 16-Nov-2001 |
Thanks to Lead, we (the Ericsson users) now know that there is a Battery menu in all our Ericssons. From what I have observed and what has been documented into various message boards, I have compiled a page especially for this subject. You should be able to see this Battery Info page in the menu.
Like the Channel Info, you will need a special software and service cable to activate it.
| | |
| --- | --- |
| Bluetooth Gets a Coming-Out Party at Comdex - 3:17pm | 16-Nov-2001 |
The International Herald Tribune reported a story by The Associated Press on the Bluetooth success at Las Vesgas' Comdex show.
Bluetooth is making its way into personal digital assistants, cell phones, printers and even digital camcorders. "This stuff is real now," said Simon Ellis, chairman of Bluetooth SIG Inc., an industry consortium.
Read the complete story here.
| | |
| --- | --- |
| Updated the Tips & Tricks section - 3:15pm | 10-Nov-2001 |
Updated the Tips & Tricks section and added two items in there. The first is on how to input really fast on your Ericsson (especially those users who don't have T9 in their mobiles) and the other is how to page scroll when reading your SMS instead of the line scroll which most people use.
| | |
| --- | --- |
| Why wireless Bluetooth could become a cable killer - 4:51pm | 8-Nov-2001 |
Yahoo posted a ZDNet story on how this years Comdex would be heavily dominated by Bluetooth products.
We have been hearing about Bluetooth at Comdex for, oh, three years or so now. But this year will be different. As my well-informed colleague Patrick Houston points out in his Comdex preview, which is part of our ZDNet Comdex special report, Bluetooth is expected to share a big part of the Las Vegas spotlight, and not as some proof of concept or prototype technology, but as a working technology inside actual products that are on the market, for sale.
If you watch our Comdex sneak peek video, for example, you'll see an Intel executive demonstrating Bluetooth.
Read the complete story here.
| | |
| --- | --- |
| Sony Ericsson says demand heavy for T68 - 4:40pm | 8-Nov-2001 |
Yahoo posted a Reuters story on Sony Ericsson Executive Vice President and Head of Sales and Marketing, Jan Wareby who said demand for the T68 has been outstripping supply.
Ericsson's small T68 mobile Internet phone, the first color-screen phone produced by a leading handset maker, has been on sale since October in Europe and could mark a turning point for Ericsson which in the past has been criticized for chunky, unfashionable and difficult to use devices.
"The T68 has been very well received by consumers and operators. There is a big pull for the product," said Wareby, who is second-in-command at the Japanese-Swedish company.
Read the complete story here.
| | |
| --- | --- |
| Ericsson T68 vs Nokia 8310 - 5:57pm | 5-Nov-2001 |
The guys at GSMBOX have written a showdown preview of the Ericsson T68 vs the Nokia 8310 and it wasn't suprising that Ericsson got top marks for 60% of the categories looked into by the reviewer.
Read the complete story here.
| | |
| --- | --- |
| Review of Ericsson T65 (Prototype) - 3:15pm | 2-Nov-2001 |
Did a review of the Ericsson T65. Why don't you visit my Reviews page.
| | |
| --- | --- |
| Switching off your phone via Bluetooth - 3:01pm | 2-Nov-2001 |
Norwegian company, ICE International has a device that switches mobile phones off via Bluetooth.
The Norwegian company, ICE International has embarked on trials at Bergen Airport Flesland to automatically disable appropriately enabled cell phones. ICE International will deactivate mobile phones at two airport gates, by using BlueTooth to send a signal to cell phones that will switch the phone off before the owner embarks onto a plane.
Read the complete story here.