Droll Software Last updated: 9-Jul-2005 (10:11am, GMT +8)
SMan v1.4 is now available - 11-May-2005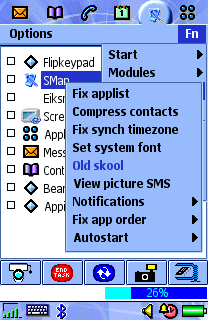 SMan v1.4 is now available, please go to the files section at the bottom of the page to download it. Will update the page in the following days.
SMan v1.4 online manual (English)
Awards given for our efforts - 12-Jan-2004

SMan v1.2 was reviewed by AllAboutSymbian.com and given the "Mega App " award for outstanding essential software. This award is rarely given out by them. You can read their review about SMan here or see how AllAboutSymbian.com gives out awards and how they rank them here. You can also see what other software they have given the "Mega App" award to on this link.
Contributing to SMan - 31-Mar-2004
If you have been using SMan for a while and appreciate the time and effort put in into the developement of SMan, please contribute to SMan. "How?" you might ask, the answer is simple. You can click on the Handango logo below and "buy" SMan. You are allowed to buy more than one copy if you want and each copy costs USD 7.

This is just to remind users that SMan is still freeware and we will still continue to release SMan as freeware. We will also continue to release the source codes of SMan as we do now (one generation behind the currently available version of SMan). We believe that SMan is an important project to the UIQ community (users and developers) and things should not change because of it.
Please bear in mind that your contribution should only reflect your appreciation of SMan as it now stands, we feel that we should be at liberty to develope SMan the way we want to without any obligation to anybody else. We will still listen to suggestions e-mailed to us but it will still be our perogative if we want to implement any ideas sent to us.
We strongly suggest that you contribute to SMan whenever a new version is released that:
You like/appreciate our efforts.
Saves you money from buying another commercial program that does the same thing.
Have too much cash in your pocket/bank.
Both Droll and I would like to thank the following for their help in translating SMan into the following languages:
If you are using the non-English version, I would strongly recommend you e-mail them and thank them for their efforts in translating SMan for you. Their e-mail address can be found in the manual.
If you want to see the old SMan page, visit here.
Description
Filename
SMan v1.4a - English
sman14a-en.zip
file
SMan v1.4 Language Translator's Package Rev 003
sman14-translatorspackage-003.zip
file
Source Codes
Filename
SMan v1.0 source codes (27K)
sman10-sources.zip
file
SMan v1.1a source codes (76K)
sman11-sources.zip
file
SMan v1.2c source codes (139K)
sman12-sources.zip
file
SMan v1.3c source codes (139K)
sman13-sources.zip
file
User mods
Filename
SMan v1.2x - enhanced 3D buttons by pimp800 (v1.2 only)
sman12b-3d-pimp800.zip
file
SMan v1.3x - enhanced 3D buttons by modellista (v1.3 only)
sman13a-3d-modellista.zip
file
SMan v1.4x - enhanced 3D buttons by ilia (v1.4 only)
sman14-enhc-buttons-ilia.zip
file